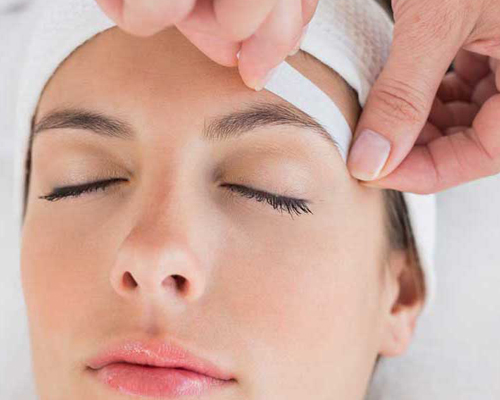 We feature a full waxing service, including bikini, leg, eyebrows, and more.
WAXING
Starting at
Brow…………….$15
Lip……………..$15
Chin…………….$15
Full Face………..$35
Underarm…………$25
Half Leg…………$40
Full Leg…………$75
Classic Bikini……$40
Benefits?

Waxing lasts SO much longer than shaving. Hair in waxed areas won't grow back for 2 – 4 weeks; whereas, shaving you're back at it the very next day (unless you're a lucky one who can push it out a week). Plus the more you wax the less painful it is, the regrowth becomes softer and finer, and the longer you're at it the less you'll need to tame it.. Think about those times you're trying to get to the "impossible" areas by propping a foot up on the wall, shelf, or tub, forcing yourself to become more flexible than you're aware of only to realize you still cannot reach the hidden area. With waxing you have complete control over how little, or how much, on precise areas. Therefore, after you've completed your first waxing you will then wait 4 – 6 weeks before returning for your next session. Are you intrigued yet?…

Who's it for?

Face and body waxing is for everyone- slim, curvy, tall, short, and all those folks who are in between. If you're looking to spend a little time on yourself then waxing is for you! We at Salon 35 promise your waxing service will be a  positive experience, so much that you'll leave here wanting to come back for more.

Preparation

It is pretty important that you allow the hair to be grown out enough, in order for the wax to "grab". The hair should be at least 1/4 – 1/2 inch long BUT no longer than 1 inch. As complicated as that sounds, before you go grab a ruler and start measuring, another great way to know is keeping track of the last time you shaved. Let the hair grow out for at least 2 weeks, even if it's too long we can trim it (we are salon after all).

What to bring

Underarm: you will need to take your shirt off but leave your bra on, if you're not comfortable in that you may want an old tank top to wear during the service. Please understand we cannot promise wax residue won't get on your garments.


Legs: You will have your pants and socks off and leave your underwear on, however, you are more than welcome to bring in an old pair of "booty" shorts. (Remember we cannot promise wax residue will not get on your garments).

Bikini: Although everyone thinks your toosh will be exposed during the service, sadly you are wrong. Your pants will need to be removed but underwear must remain on. My suggestion is to either grab very old, don't care about undies or purchase a pair of cheap waxing undies only. Once again, we cannot promise wax residue will not get on your garments.